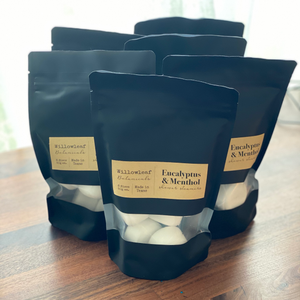 It is incredibly easy to get caught up in life and forget to spend time on/show love to ourselves. A lot of the extra self care can go neglected for long stretches of time when you're stressed.
Shower steamers are an incredible way to make a mundane, necessary shower into a little bit of a morning (or nighttime) treat! Turn your shower into a spa-like aromatherapy situation, and relax a bit.
Available in bags of 6, simply place one tablet out of the direct stream of water in your shower where it will still receive some gentle bursts of moisture. The tablet will activate and fill your shower with a delicious steam! Highly recommend a hot shower with these, as the more steam you create, the more effects you'll get out of them!
A note about essential oils: not all essential oils are suitable for young children, particularly those under the age of five. Peppermint and Eucalyptus Essential Oils are both potentially hazardous to younger children due to respiratory concerns.
Ingredients:
Sodium Bicarbonate, Citric Acid, Coconut Oil, Menthol, *Essential Oils

-*Denotes Organic Ingredients

NO Palm Oil, Parabens, Phthalates, or SLS
The product(s) you receive may vary slightly from the product picture due to the nature of your product(s) being 100% handmade.